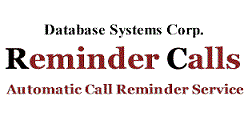 Call Reminder Service
Automatic Reminder Calls
For Groups And Individuals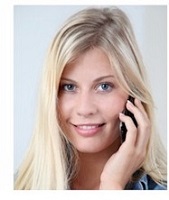 Sending group reminder messages is now an easy task using technology from Database Systems Corp. (DSC). Whether you run a business, church or school, or simply manage a social group, you can get reminders out quickly and at an affordable price.

DSC has been providing the latest technology products and services since 1978. DSC manages its own secure data and call centers while providing state-of-the-art products and services. DSC products include call center software as well as voice broadcasting services that are ideally suited for delivering call reminders.

DSC reminder service provides calls for both individuals and groups. DSC can also provide your organization with phone systems that can broadcast reminders.
Advanced Call Center
Employing our own voice broadcasting systems and software, our call reminder center can send reminders to communities and individuals in just minutes! Pre-recorded messages can be delivered to either individuals or answering machines reminding them of upcoming sporting events, community affairs, doctors appointments, or emergency alerts.
Include Personal Information In Your Reminder Calls
Personalized information from your custom database (such as name, type of reminder, date and time, etc.) can be included in these automatic reminders. In some reminder campaigns, different messages can be played based upon contact with an answering machine or a person and based upon the time of day.

Contact DSC to learn more about our reminder services and systems.


---
How Do I Sign-up For Individual Reminders?

DSC provides an easy and secure sign-up procedure for individual call reminder enrollment.
Online Enrollment - Sign-up online using our secure website.
Senior's Profile - Specify the subscriber's profile (dates and times to place reminder calls).
Name Contacts - Identify alternate contact if we can't reach the subscriber.
Secure Payment - Choose one of several enrollment and payment options and pay online using Visa or MasterCard.
DSC provides online and phone management of the call reminder account. This lets you view a history of the calls. You can also manage the dates and times for these calls including vacation days.
Group Reminder Service
DSC now provides an online signup for both non-profit and business organizations wishing to use our call reminder services. Signup is easy and free! Our competitive rates are affordable, even for the smallest calling campaign.
Start Calling In Just Minutes!. Using our new online signup lets you get started immediately with your calling campaign. Simply create an account and agree to our standard terms and conditions. Then download your list of phone numbers and record a message. We accept major credit cards and for as little as $25, you can begin calling. Its that simple!
Both emergency and non-emergency call reminder services can be provided by DSC.
To register online, click on the the online registration image or button on the right.


---
Automatic Group Reminders
Call reminders can be managed easily from your own computer using our call reminder software. DSC provides a client program that can be downloaded onto your computer that manages your calling campaigns. Here's how it works:
Register with DSC - First, register your reminder program with DSC.
Create or export your call lists - Use DSC's flexible list format to create a reminder list.
Record your reminder - Call DSC's 800 phone number and record your phone message.
Pay online using Verisign - DSC estimates the charge based upon your phone list.
Start your call reminder campaign - Begin the calls by hitting the proceed button.
That's it! Once you've registered with DSC, you are free to send any number of reminder lists for calling. Payment in advance allows you to send multiple reminders as long as your account has sufficient funds. Our program monitors usage and will remind you when your funds are insufficient to make more calls.
Contact Us Today
Contact DSC to learn more about our call center technology products, software and services.