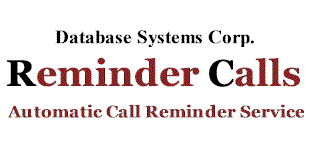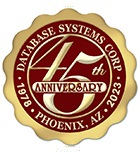 Reminder Software Solutions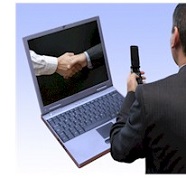 Phone reminder software is used to schedule and deliver call reminders to patients, clients or individuals. These phone reminders are automatically sent using computer phone systems developed by Database Systems Corp.

Database Systems Corp. (DSC) is a leading provider of call processing technology. These include voice message broadcast phone systems. DSC likewise provides comprehensive call handling services at its secure and redundant call center.

Employing these voice broadcasting systems, DSC can send hundreds or thousands of call reminders to your community or clients in just minutes! A pre-recorded phone message can be delivered to either individuals or answering machines, reminding members of upcoming appointments, conventions, community events, warranty deadlines, or even community alerts.

DSC telephone reminder software is ideally suited for organizations and groups that need to send notices to clients and to members of a community. Call reminders from DSC can include customized information from a client database (such as the caller's name, appointment date and time). Employing our text to speech software, virtually any information can be included in these reminder calls. In some cases, a message may be left only if an answering machine is detected. An reminder recipient could be given a message with selection options using our interactive voice response system.

Contact DSC to learn more about our reminder software and phone systems.


---
Central Maine Medical Center (CMMC)

"Central Maine Medical Center is located in Lewiston, a geographic and economic hub for central and western Maine. As a tertiary healthcare center, CMMC offers a host of sophisticated services, including cardiac surgery and comprehensive cancer care. CMMC supports a designated trauma center and LifeFlight of Maine's Lewiston base. With these vital emergency response and critical care transport capabilities, CMMC serves a huge region of Maine."

Database Systems Corp. (DSC) was selected by CMMC (Advanced Collection Services) to send automatic late payment reminders and collection notifications using our reminder software and automated phone systems.
---
Automatic Reminder Software
Phone reminders can be sent to your clients and associates automatically from your own computer systems or websites. DSC employs VoiceXML phone messaging that can easily send messages from your existing computer applications. Database Systems Corp. reminder systems supports several "canned" XML message formats, but can develop new formats that fit your requirements.

To send voice messages to be delivered to one or thousands or call recipients, simply send instructions to our phone server that include the following information:
Voice or text file containing reminder message to be delivered.
Call recipient phone number(s) or
List of phone numbers already maintained on our phone system.
Date and time of delivery.
Any special instructions.
How To Use Our Phone Reminder Services
If you do not wish to automatically send reminders from your computer systems, DSC provides an online phone message delivery service that is easy to use. Here are the simple steps required to send phone reminders employing this voice broadcast service.
Create and upload one or more list(s) of reminders
Record your reminder message (either offline or using our 800 number).
Push "Start" broadcast button.
Contact Us Today
Contact DSC to learn more about our reminder software and automatic phone systems.



Community Services
Medicine Reminders
Latchkey Kids
Emergency Broadcasting